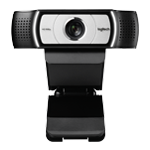 ---
Product Information
Component
Model Number (M/N)
S/N Location
Webcam
V-U0031
On cable tag
Product Dimensions
Component
Height
Width
Depth
Weight
Length
Webcam
1.69 in (43mm)
3.7 in (94 mm)
2.80 in (71 mm)
5.71 oz (162 g)
N/A
Attached USB-A Cable
N/A
N/A
N/A
N/A
5 ft (1.5 m)
General Product Information
Connection Type
Attached USB-A Cable
Video Resolution

1080p/30fps (up to 1920 x 1080 pixels)


720p/30fps (up to 1280 x 720 pixels) with supported clients H.264 video compression

Camera megapixels:
3MP
Autofocus
Lens type:
Glass
Mic range:
Up to 3 ft (1 m)
Diagonal field of view (dFoV):
90°
Digital zoom:
4x
Additional

RightLight 2 auto light correction for clear image in various lighting environments ranging from low light to direct sunlight.


Supports H.264 UVC 1.5 with Scalable Video Coding for a smoother video stream in applications.
FREQUENTLY ASKED QUESTIONS
Frequently Asked Questions
There are no Downloads for this Product
There are no Downloads for this Version.