Email alerts in Sync allow you to get proactive alerts about issues with your meeting spaces.
Email alert settings can be found under System -> Alerts in the Sync Portal.
Email alerts come with a lot of customization to ensure they work for you. You can set the following options:
What will trigger an email (errors, warnings, and occupancy limit alerts)

Mute alerts during a time period. This is helpful to ensure alerts aren't triggered during nightly reboots.

Grace period before an alert is triggered. For example, wait a minute before triggering in case the issue is resolved, like a mic pod getting reconnected.

Email batch options. Send individually, or send emails as a batch.

Option to send an email on issue resolution.

Choice of who in your organization should receive these emails.
Here is a screenshot of what this looks like: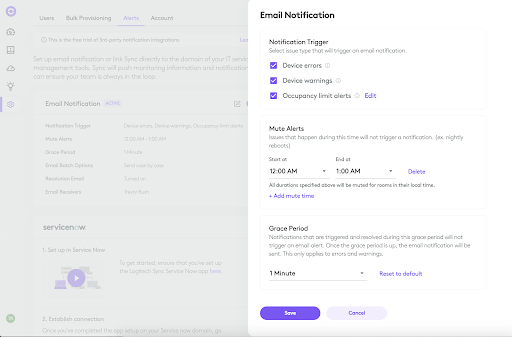 The emails sent will come from the vc.logitech.com domain if you have the need to whitelist it on your mail gateway.
Here is an example of what one of the email alerts will look like:
The email shows you exactly where the error happened, what room, and what group it is part of. The email will also tell you what the error is and what time it happened. We provide a link to easily take you to that room in Sync.
Frequently Asked Questions
There are no Downloads for this Product
There are no Downloads for this Version.