This article will cover how to provision a Logi Dock Flex to Sync so that it can be managed and maintained through the Sync admin portal.
Region, Time, and Language
Initially when you turn on your Logi Dock Flex you will be presented with a screen that ask you to choose your country, time zone, and language. In order to start the provisioning process you will first need to select the options that are correct for you. Once you have made your selections you will be able to press the right arrow to move to the next screen. Here you will be presented with terms and conditions to accept or decline.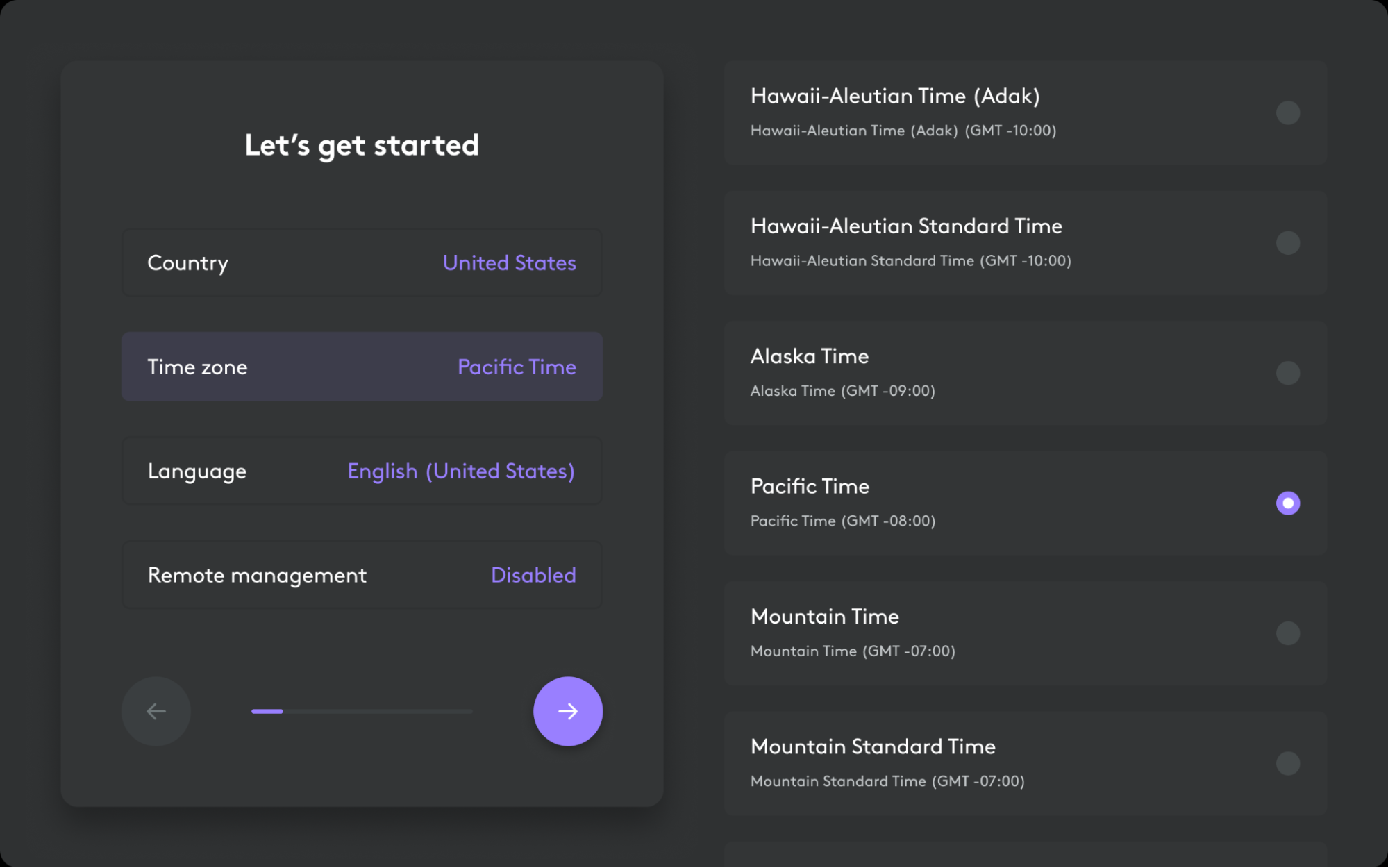 Network Configuration
Next you will need to select a network to connect you Logi Dock Flex to. If you have a wired connection to the device it should automatically detect this. If not, you can choose to use a wireless option. When selecting a wireless connection you will need to select the wifi network and enter the password so that your device can connect to the network.
Choosing a service provider
With your network settings configured you will then be able to choose your service provider. You can choose from the following services: Logitech Desk Booking, Zoom, and Microsoft Teams. In this article we will specifically cover how to provision your Logi Dock Flex to the Logitech Sync portal when selecting Logitech Desk Booking. Once you have tapped on Logitech Desk Booking, tap on the right arrow at the bottom of the screen to proceed.
Provision to Sync
You should now be at the provisioning screen. Here you have several ways to provision your device.
First, you can enter a provisioning code that you get from the Sync portal. To get a provisioning code you will need to log into your Sync portal via a web browser, select Flex Desks>Inventory and then select the locations you would like to provision your device too. Once you have selected the Flex Desk that you wish to provision this device too, you can click on the (...) and then select "Desk provisioning code". This will display a provisioning code that you can then enter on the screen of your Logi Dock Flex
Second, you can enter your administrator credentials for Sync directly onto the Logi Dock Flex. After logging in with your administrator credentials from your Sync portal you will be able to select the location and desk that you want to provision this device to.
Once your device has been provisioned you will see a confirmation screen on the Logi Dock Flex. Tap on the right arrow to confirm the details and Logi Dock Flex will then load the device with the appropriate settings for the desk.

Frequently Asked Questions
There are no Downloads for this Product
There are no Downloads for this Version.