Issue description: When the user is trying to connect Logi Tune with their calendar account
Then during the authentication process Office 365 is asking for an approval:
The administrator tenant needs to approve the application from Azure AD.
Here is how:
A normal user (

Non an admin user

) should send the request to the administrator. During the Logi Tune calendar connection process the user should enter a justification and then click on the "Request approval":
After the user's request the following steps will be carried out by the administrador. Open a web browser and go to the following 

link

-> Enter your administrator credentials. 

Note:

The administrator should have any of the following roles:
Global Administrator

Cloud application administrator

Application administrator
Now go to the following option: Enterprise applications -> Admin consent requests:
Click on the tab "All (Preview)" and you will see the Logi Tune app listed. Select Logitune:
A new window will appear, here you will see some technical details  of Logi Tune. If you agree click on the "Review permissions and consent"
Microsoft 365 will request the admin credentials again. After entering them you only need to approve the application by clicking "Accept"
After approve the application the users can connect their calendars to Logi Tune without any problem: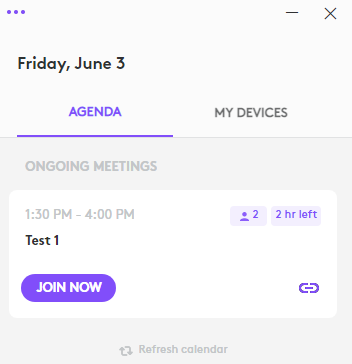 Optional step: If you want to verify that the application is configured and ready to use go to:
Enterprise applications -> All applications, If you see Logi Tune listed the application is configured and ready to use.
Frequently Asked Questions
There are no Downloads for this Product
There are no Downloads for this Version.