---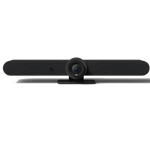 Logitech Rally Bar is the premier video bar for midsize meeting rooms. Discover remarkably simple, all-in-one video conferencing with brilliant optics & audio. Rally Bar can be used in appliance mode, but is also one of Logitech's CollabOS devices. For more information about CollabOS:
CollabOS Guide:
Click to launch our guide for CollabOS.
SETUP GUIDANCE
TROUBLESHOOTING
VIDEO SUPPORT
Frequently Asked Questions
There are no Downloads for this Product
There are no Downloads for this Version.